Blog
Misty Berry: 2021 GM to Watch
Misty Berry: 2021 General Manager to Watch
Born and raised in Texas, Misty Berry got her start in 1995 as a front desk clerk on the evening shift. Not long after that, she was promoted to the first of many management positions she would hold. After 25 years leading hotels across the state, Misty joined HVMG in May 2020 to open the Residence Inn Waco, and she was promoted to her current position of Dual General Manager earlier this year.
As GM of both the Courtyard and the Fairfield Inn & Suites Austin University, Misty takes an active role in the career growth of her associates. She considers employee development to be the key to being a successful leader, saying, "This profession is in constant renewal; I always seek to improve myself and to inspire my team to deliver excellent service to our customers."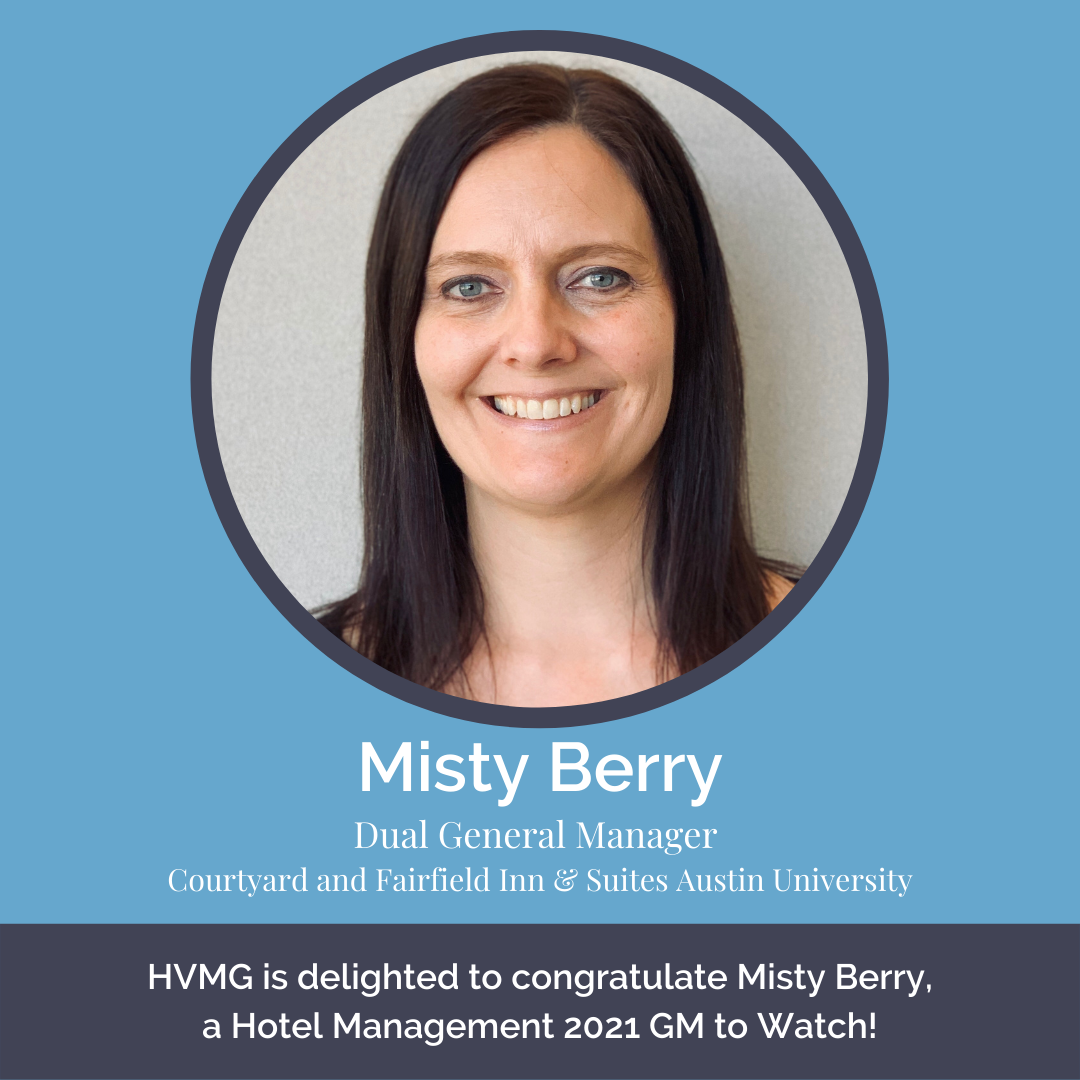 Misty's leadership philosophy is to lead with kindness, love, and compassion. She says, "Without my staff, I would be lost, truly. They inspire me to take on new challenges, participate in exciting projects, get the best scores in guest satisfaction and run excellent results in the hotel operation."

This focus on her team has paid off, both in operating results and in Misty's recent recognition as one of Hotel Management magazine's 2021 GMs to Watch.
Reflecting over the pandemic, Misty points to the silver linings, including tech innovations like grocery delivery apps, and says, "My biggest joy in the last two tough years has been finding unexpected gems, all of these people that are amazing to work with and have worked so hard."
Outside of the operating difficulties, slowing down was the biggest challenge Misty faced.
"When you're in the hospitality industry, the only constant is change. There's always a lot of stuff going on and time will fly out from under you, but the pandemic slowed everything down. I constantly remind myself to be patient with the world at large and travel coming back. We have to put ourselves in our guests' shoes and empathize with their uncertainties."
Not surprisingly, Misty says that she would work in another helping profession if she wasn't a hotelier. "My passion is helping people. If I could have any other job in the world, it would probably be something like, going to a place where an entire population needs help and rolling up my sleeves to take care of people that need it," she says.