Blog
General Managers to Watch
Two HVMG general managers were included in Hotel Management magazine's 2022 GMs to Watch list -- Maggie Rosa from the Atlanta Marriott Perimeter Center and Rodolfo Ortega from Tru by Hilton Atlanta Galleria Ballpark. Read on to learn about their career paths, leadership philosophies, and goals for 2023.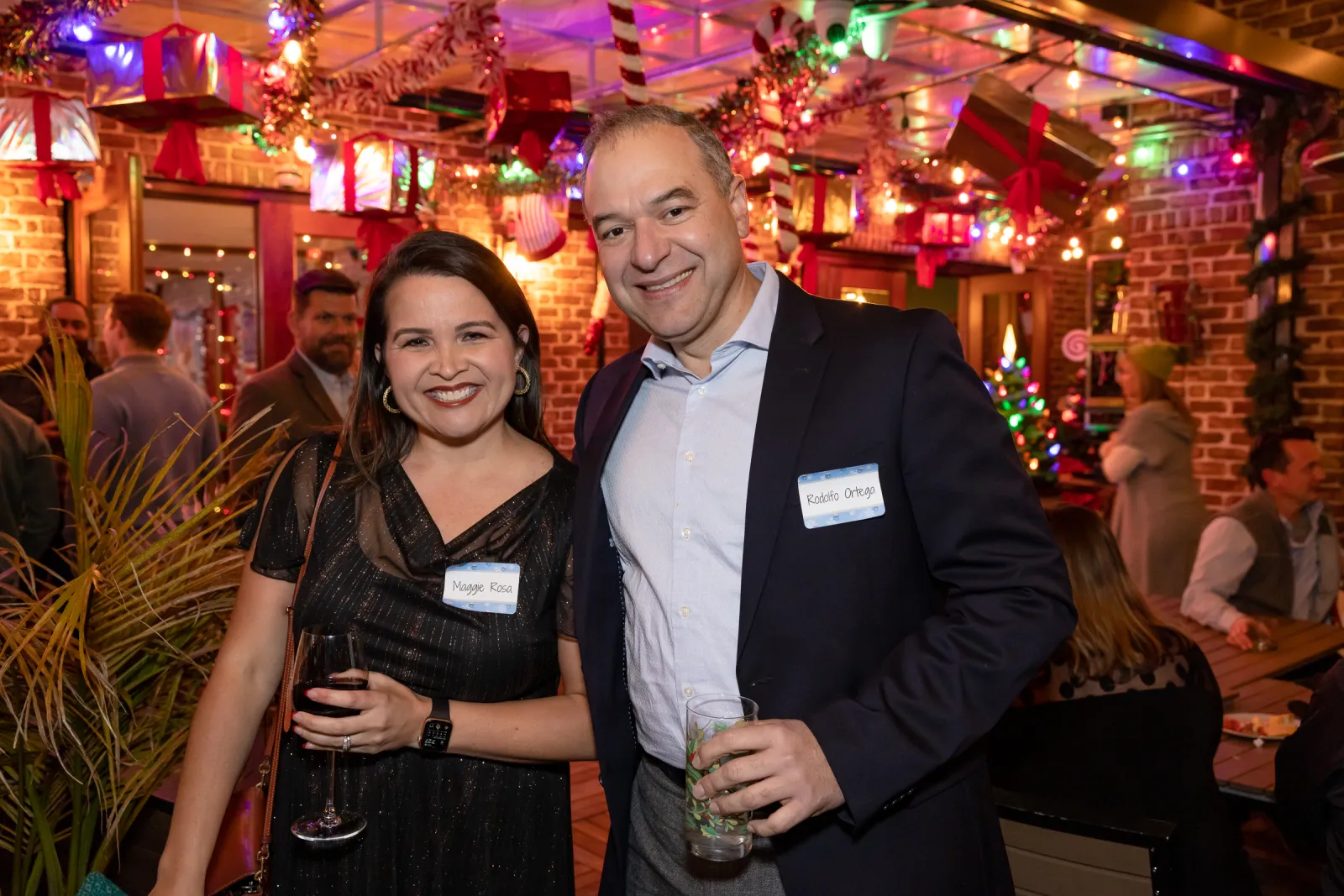 Describe your career path: Where you went to school, how you started in the hotel industry and how you progressed to your current position.
Rodolfo:
I was born and raised in Colombia, and I was sponsored by the Santamar Resort & Convention Center in Santa Marta to attend the SENA college while interning at the Resort. After graduating with a major in Hospitality in 1989, I began my management career as Assistant F&B Manager at the Santamar. After 11 months I was promoted to F&B Manager where I served until 1993 when I moved to Barranquilla to take the F&B Manager position at Puerta del Sol Hotel.
I married and moved back to Santa Marta as General Manager for La Ballena Azul in 1996. From 1997 to 2001 I served as dual General Manager for Hotel de la Ville in Cali and Hotel Valle Real in Bogota.
I moved to the USA in 2001 and held several roles in various disciplines while learning English. I was promoted to my first management position in the US in 2006, when I became as Restaurant General Manager for Baja Fresh Mexican Grille in Southfield, MI. From 2008 to 2011 I served as Restaurant Manager for Doubletree in Dearborn, MI.
In 2011 I moved to Florida and joined HVMG in numerous leadership roles, including Executive Housekeeper for the International Palms Resort Cocoa Beach and Executive Housekeeper for the Atlanta Marriott Northeast. I also assisted on task force assignments within HVMG Hotel acquisitions such as Holiday Inn Savannah GA, Embassy Suites St. Augustine, FL, and The Burgess Hotel Atlanta, GA. From February to September 2021, I served as the Task Force GM for the Nautilus Inn Daytona Beach, FL. On September 2021 I was promoted with HVMG as General Manager for the Tru by Hilton Atlanta.
Maggie:
I attended Northern Arizona University and got a B.S. in Hotel and Restaurant Management. During college, I knew I wanted to work for Marriott, and there was only one Marriott hotel in Flagstaff, Arizona at the time, a Residence Inn. I worked in housekeeping, laundry, breakfast, and front desk -- all the areas. It was a deliberate decision because I was going to graduate at age 20 and knew I would be managing people who were older and more experienced, so I wanted to know every aspect of the business.
After college, I was part of Marriott's Manager in Training (MIT) program. Instead of staying in one department, I again pushed them to move me around so I could learn more. After graduation, I worked in various rooms positions at Marriott properties in Marina del Ray, Pasadena, LAX, and Redmond, WA -- Front Officer Manager, Director of Services, Director of Rooms, and Assistant GM. After opening the Marriott Redmond Town Center, my children were getting older, and I wanted to put down some roots.
We moved to Houston and spent fourteen years there. I got the chance to learn about other brands as Area GM for the Hilton Houston Galleria Area and Hyatt Regency Houston North and got connected with HVMG. I also got to flex my turnaround muscles, which is what led me here to the Atlanta Marriott Perimeter Center.
What do you love most about being a general manager?
Maggie:
I like to come into a hotel and be part of its transformation. I thrive on turning unbelievers into believers, to show people that everything's possible with passion and commitment.
At times, even the most passionate people lose their passion because of their environment -- both physical and cultural -- and the challenges that they face. But once the passion is reignited, they rise to the occasion.
Rodolfo:
Being a general manager is not a position or a title, it's action and example. Being a GM takes time, energy, effort, and determination. I enjoy building and developing teams who drive outstanding results by creating a family work environment based on respect, support, trust, and accountability, where everyone is committed to providing excellence in service and achieving great success. An essential part of my role as GM is to clearly communicate the team's direction, vision, and goals, demonstrate the values expected of the team and motivate the staff towards achieving said goals while letting the associates know where their contributions lead.
When associates feel that their manager supports them, they take initiative, greater risks, show growth, and trust each other to do the right thing. By focusing on the importance of one's role in achieving the company's goals, an associate is made aware of their importance and how their failures and shortcomings affect others.
I encourage the team to challenge themselves by setting up their own personal and work-related goals. The most rewarding part of my job is having the ability to influence the professional growth of my associates.
What is your management philosophy? How do you inspire staff?
Rodolfo:
My philosophy is to lead with a hospitality heart for service. Hospitality involves making your best effort to provide a special and memorable experience, and I am passionate about leading by example to provide excellent customer service for guests and associates.
I'm always looking for an opportunity to do better and achieve excellence in servicing others. I pay attention to little details that could have a positive impact on other people's lives. If you want your associates to trust you and have confidence in your leadership, you need to be an example for them to aspire to.
I am a hands-on GM who frequently jumps in and lends a hand when needed, which builds a collaborative team atmosphere where associates help each other in their efforts to provide the best guest experience.
I believe the best way to inspire our staff is by setting clear expectations and goals, providing constructive feedback on a regular basis, praising them publicly for a job well done, and providing opportunities to learn and grow while giving them space to fail and take measured risks. Failures are opportunities to make us better, they are also an opportunity for leaders to extend each other grace, learn from their mistakes, and become stronger.
Maggie:
We win with our people, and we win with culture. Our associates know that we truly care about them. They know that we care about our guests, but we care about them first. They spend more time at work than anywhere else, so we want this to be rewarding.
When our associates drive up to work, I want to them to know that no matter the challenge, no matter what's happening, we're in it together. Whether we have to flip the ballroom or have to strip beds to get ready for a big check-in, I am going to make sure we all jump in and do whatever it takes.
What is the most pressing challenge you've faced and resolved in the past year?
Maggie:
This hotel was in the Red Zone for years before HVMG took over management. When I first started here, I knew that it was going to be a big undertaking. We had a meeting in early January with Marriott Corporate, our lenders, our owners, and our HVMG corporate team. There was a lot of pressure. The corporate team from Marriott even said, "Mr. Marriott wants to see this hotel turn around because it's been in the red for so long." We sat in a room and did a big presentation about how we would turn the hotel around.
We were out of the Red Zone by March.
We had gotten a good response to our plan, and everyone expressed confidence in our ability to do it. But, as our Marriott SVP said, "Listen, Maggie, I knew you guys would do it. I really did. I didn't think you guys would do it this quickly."
It really brought tears to my eyes because for the team to really embrace it and hear those comments meant the world.
Rodolfo:
Staff shortages and the high turnover during the past year were a big challenge, as applicants would not show up for interviews, or when hired would work for a day or two and then go to the next place offering pennies more. The first step in overcoming this crisis was to reward our new associates with hiring and retention bonuses. We also focused on improving the engagement with our associates to create loyalty.
Even though the staff shortages caused disruptions to operations, I felt it was important to focus on hiring people that have the same values as the company and would fit right in with the culture of the hotel.
By hosting events and activities that foster camaraderie and team building, I spend time with our staff, getting to know them well enough to understand what is important to them and their families, creating an atmosphere of cooperation, and offering activities that foster personal development. I developed a mentoring program to teach transferrable skills. Associates at the hotel are cross-trained to cover different positions to help in all the departments.
Who are your clients? How do you interact with them?
Rodolfo:
My clients are our guests, associates, hotel owners, the local community, and the people we do business with. All of them are important. Hospitality is not limited to the hospitality industry, and I have always focused on providing positive experiences and memories for the people around me.
My favorite time to interact with our guests is during breakfast when I can ask them about their experience in our hotel and learn how we can make their stay memorable. I encourage my associates to learn something about our guests, like what brought them to Atlanta or why they chose our property, and to always try to go above and beyond to ensure they have a great time during their stay in our hotel.
One of the best ways to improve is to ask for feedback regularly and be open to receiving it and doing something with it. The hospitality industry is constantly evolving, and as managers, we need to know what is going on in our industry and what changes or impacts could be coming our way. Soliciting feedback from your associates, guests, partners, and the local community helps find areas you may need help in and implement changes to further your career success and the success of your hotel.
Maggie:
Our clients are everyone from the CEOs and presidents of companies like State Farm, WestRock, Cox, Oracle, EY, and Deloitte to the baseball and soccer moms from all over the state. Our hotel changes drastically from weekday to weekend.
I've always believed that we lead from the lobby. During peak times, it's important for us to be out there interacting with our guests, for them to get to know us. That's also how we've won some business, by going back to those grassroots efforts of making sure we know every guest who is here and interacting with them.
What corporate or industry accolades have you received for your efforts?
Maggie:
Hotel of the Year
General Manager of Excellence Award
Houston Business Journal's Women Who Mean Hospitality award
Commencement speaker at University of Houston Conrad Hilton College of Hospitality Management
Hilton Americas President for a Day
Rodolfo:
The Tru by Hilton is currently ranked #2 on TripAdvisor Traveler's choice among 197 hotels in Atlanta.
The Tru by Hilton ranked # 171 on Trip Advisor when the hotel opened in May 2021. In December 2021 I and his team made the commitment to rank among the top 20 properties in Atlanta. After 5 months the hotel placed in the top 20 selected groups and by August 2022 the hotel ranked #2.
The Nautilus Inn Daytona Beach ranked #3 on TripAdvisor Traveler's choice.
HVMG "Club 90" for achieving Guest Excellence Performance over 90 points on GSS and performing above the brand average.
Second-Highest RevPar Index in the Select Service Category
Highest ADR and RevPar for six months in a row among the comp set.
Second Highest Total Department Sales vs. Budget
Second Highest House Profit vs. Budget
Tell us about some of your goals for the next year.
Rodolfo:

My goal for 2023 is to make the hotel stand out. I want to position the hotel as ranking #1 on TripAdvisor - Travelers' choice and achieve the HVMG Hotel of the Year award for the Select Service Properties. Part of my job as the hotel general manager is to strive for excellence in our hotels, not only for my guests but also for my staff. I determine where the hotel currently falls short and work with my team to implement actions that each associate can take to move in the direction of excellence.
I also want to continue ensuring that our team stays happy, engaged, and inspired to work together toward reaching their shared goals. My priority is to understand and connect with our guests and associates to find ways to provide an excellent experience for them.
Maggie:
Aside from the usual goals of increasing revenue, generating additional revenue opportunities, developing my leadership team, and improving guest satisfaction scores, my biggest goal is to attract new talent.
I have partnered with Kennesaw State University and sit on the advisory board for their hospitality program. I want to continue to develop that partnership with an internship program. We are interviewing and working with students now to give them a start and develop bench strength for HVMG's 15 hotels in Atlanta.
Mentoring is a big passion of mine and my leadership team, and we are excited to bring new talent into the industry.