Blog
Form, Function, and Food
Form, Function, and Food: How Physical Design and Menu Design Feed Each Other
By Marcus Marshall, Vice President, Restaurants and Bars
Marcus delivered this keynote speech about how to evolve hotel dining for success in 2022 at the HotecFnB Conference.
The hotel restaurant is on life support. I think we can save it by uniting two seemingly unrelated areas of design, and I'm going to explain how, using real-life examples.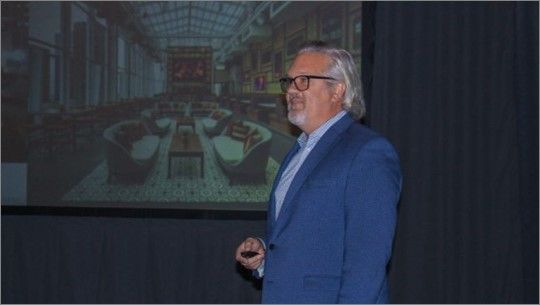 Travelers and guests have changed, and our conception of what a hotel dining experience is, needs to change with them. Travelers crave reconnection, unique experiences, and safety. Guests want more, not less, out of their time in hotels, and it is up to us to meet them where they are.
We can create communal spaces where guests are alone together; design unique meal moments that change with every stay; and put forward healthy environmentally-sustainable options. We can personalize the dining experience while at the same time relieving cost pressures. When we marry together the physical environment of furniture and fixtures with the culinary offerings on our menus, we can resuscitate the hotel restaurant and bring it forward into the future.
Before I describe some innovative solutions and ideas for restoring the health of lodging F&B, I want to wander back into history. Hospitality has a short memory, and it's important to remember where we came from in order to take the next steps.
When I worked for an independent Atlanta-based restaurant group, we were hired to consult for hotels seeking unique dining experiences. In the early 2000s, hotel operators were searching for a way to stop the profit-margin bleed of their in-house, three-meal restaurants, and the hottest concept around was to hire third-party operators for their restaurant spaces. Many hotels opened with celebrity-chef-driven concepts, with chefs like JGV and Daniel Baloud opening their signature concepts as stand-alone restaurants within hotels.
As operators watched lines form out the door, the idea became to create restaurants that *seemed* like stand-alone operations but allowed hotel operators to rake in the cash. We worked on hotel projects with the mission of creating restaurants that felt completely different from the hotels themselves - dramatically different interior design, stark color contrasts, and playlists that created an atmosphere of "we're not in a hotel." In other words, there was an intentional effort to create a separate experience, no matter who was actually cooking the food.
We can all probably list the challenges of unique hotel restaurant concepts: Who makes breakfast? What's on the in-room dining menu? Where is banquet food prepared?
Mix those up and then drop in a global pandemic. Suddenly, the guests that were actually traveling were afraid to eat food from the breakfast buffet, or states and cities shut them down completely. Even those hotels that cracked the code on profitable dining were left with few options and lots of empty tables.
Along the way, touchless technologies and streamlined operating procedures like keyless entry went from a nice-to-have to a must-have, and tech innovation in hospitality sped ahead by several years. The old "stand at the front desk while we offer to make you a reservation in our restaurant" was replaced by masked travelers gliding past the empty dining room to use iPhones for unlocking doors.
Just as a transformed check-in process is changing the way hotel front desks look and work, so too must the hotel dining experience evolve to meet travelers where they are today. Rather than ignoring the physical space of each hotel as we conceptualize the dining experience, we are now tasked with integrating food and beverage into the new normal. I'm going to share three examples of how we can do this while still providing unique, delicious experiences for our guests.
Although "form follows function" is repeated so often that it feels like gospel, architect Frank Lloyd Wright offered a different take. He said, "Form follows function - that has been misunderstood. Form and function should be one, joined in a spiritual union." These examples show how hoteliers can join form and function so that menus are designed to suit the physical spaces in which they will be consumed, and physical spaces are designed as seamless extensions of the food and drinks that will enliven them. In short, menu drives design, and design drives menu.
The first example is a trend I have been watching for a while. There is currently a movement to break down the walls between the lobby and the restaurant in order to better activate the common areas with food & beverage & proactive service. Today's guest, the remote worker, the business leisure guest, is looking for a comfortable place to both work and refuel. This is the concept made popular by Starbucks, or a third place between home and an office, and travelers are both familiar with it and actively seeking it out.
They want to have a comfortable space where they can catch up on emails and have a quick bite, a place to conduct a meeting and have a coffee. No longer do you grab a drink at the "Bar;" instead, you offer to meet a friend at the "hotel" for a cocktail. Several hotel brands are making an intentional effort to move in this direction. Hoxton Hotels offer unique, chef-driven experiences that push through the barriers of the dining room and into the common areas. Sheraton's new F&B programming caters to the business leisure guest with "work food" - created in such a way that it's neat to eat, portable, quick to prepare, and allows for heads-up engagement while eating. No messy sauces or awkward salad greens.
A second example of how to bring physical design and menu design together is from our own portfolio at HVMG. The Curator is a reimagined former select-service hotel, intended to have a boutique feel in a very popular area of Atlanta. Because the physical space is limited by the former property's footprint, we created a new way to offer food and beverage.
Pulling through the brand DNA, we are curating a pop-up series of local chefs to offer special limited menus that will supplement the hotel's coffee bar and cocktail bar program. This gives the hotel operations the ability to offer a more extensive food program than they would be able to offer on their own, and it turns a limitation of the property's physical plan into an asset.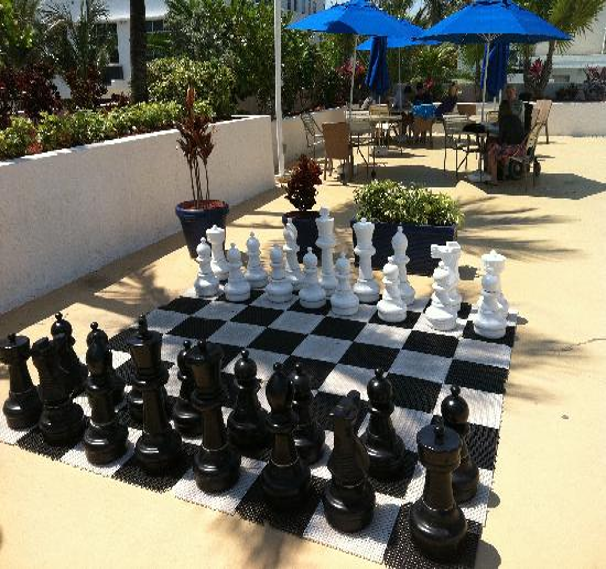 In addition, we activated the courtyard with outdoor dining and social gaming such as corn hole toss or giant Jenga. Outdoor spaces are becoming more preferred for guests looking for fresh air and social distance.
You can't talk about hotel food and beverage without touching on banquets, so my final example is group meetings and events. In order to meet event planners and conference attendees where they are post-Covid, banquet menus need to emphasize freshness statements throughout, because today's corporate and social groups will absolutely expect it, and because it underscores the safety of our hotels. Health, fresh, individually-portioned items such as smoothies, cold-pressed juices, avocado toast, crudités & fresh fruit will be popular. In addition, stationary displays that allow us to attractively present individual portions of hot meals are preferred to buffets and large platters. Think sleek, modern shelving from which attendees can select their own main dish rather than shared serving utensils scooping out of a chafing dish. For beverage service, batched cocktails and ready-to-drink options also offer the same safe individual experience in a group environment.
Food and beverage are an integral part of the guest experience, and now, more than ever before, guests are expecting more - from the food itself and the overall experience.
You cannot define yourself as an excellent hotel without excellent food and beverage programming. All hotels, no matter the service level, should lead with food & beverage to set them apart from their competitors and make a memorable guest experience.