All About the Guest
By Ronald Mader, HVMG Regional Vice President of Operations & Transitions
In a year that threw challenge after challenge at the hotel industry, we knew we wanted to honor the associates who are the heart of HVMG. We know there are Hidden Heroes at every hotel in our portfolio, and we want to
celebrate, thank and recognize
all of our
EXCELLENT
team members. On top of a company-wide celebration, we sought out nominations for the
Hidden Hero Award,
giving my fellow RVPs and me the impossible challenge of selecting a finalist for each region.
Our Hidden Heroes:
· Show HVMG's core value of excellence and demonstrate it through specific acts within the hotel, community, or personal life.
· Go beyond their everyday responsibilities to impact a specific guest experience or hotel event.
· Play an active role in leading their co-workers through difficult times and situations by demonstrating acts of informal leadership, kindness, and HVMG love.
Our region's finalist, and winner of the Hidden Hero Award, is Marcia Evans. Marcia is the Housekeeping Supervisor at the Sheraton Suites Plantation, where she is all about the guest. With 24 years of industry experience and eight years at this hotel, it's clear to see that she loves what she does.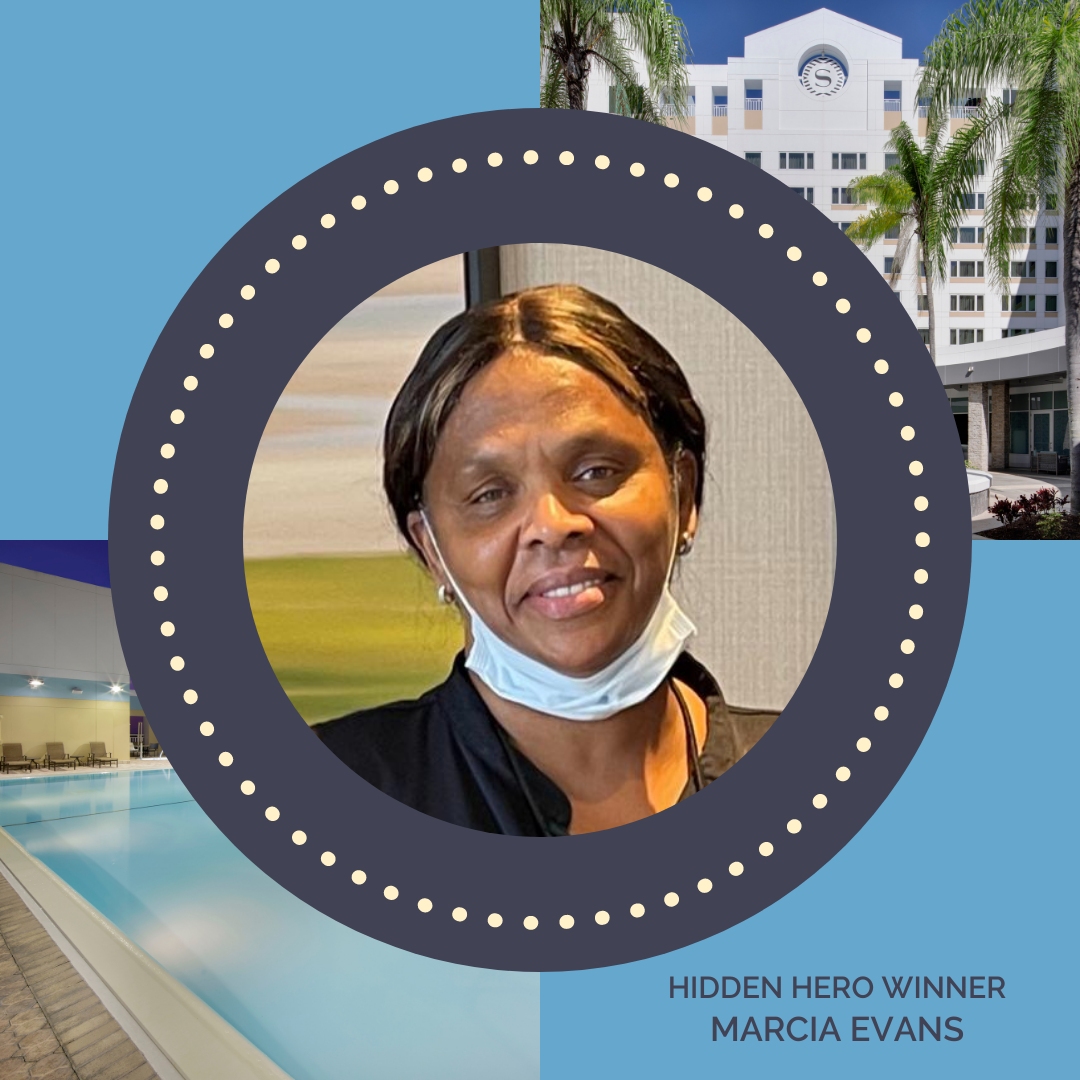 Her General Manager, Keith Dunker, nominated Marcia because she "creates lifelong guest loyalty by conveying inspiration." Not only does she keep the guest experience at the core of everything she does as a Housekeeping Supervisor, but also when she's filling in as a houseperson, laundry attendant, room attendant, or anything else her hotel asks of her. To Marcia, it didn't matter which position she was working because she "is still here for the guest."

Marcia was nominated for many reasons, as she inspires guests and her fellow associates:

"[Marcia] always tells the best stories."

"Because of you, Marcia, you made me one of your guests for life."

"Marcia always came to work with a smile."

"[Marcia] made me feel like family."

Her co-worker Maria shared how "Marcia has gone through many challenges, as she lost three family members to COVID, within days of each other. Yet when she came to work, and you asked her how she was, she said 'excellent.'" Marcia's dedication to the guest experience and loyalty shows in all she does.


"She sympathized with a guest that was having a bad day and shared her own experience [with loss]," said Keith. "By doing so, the guest was able to experience first-hand our caring approach," and Marcia "brightened her day and made her a loyal customer."

When asked about her hotel, Marcia said, "The Sheraton is just a building, [the associates] are the ones who present the Sheraton." It's clear to see why Marcia has excelled in her 24-year hospitality career, as she takes great pride in what she does. She exemplifies HVMG Excellence and consistently goes above and beyond through compassionate storytelling, immense dedication, and a willingness to show each of her guests' genuine love. Congratulations to Marcia Evans, Hidden Hero of our region and winner of the Hidden Hero Award!

Interested in more news and thought leadership from HVMG? Get on the list here.