Blog
Rethinking Outdoor Spaces
Rethinking Outdoor Spaces for Fun and Function
By Richard Jones, EVP and Chief Operating Officer
Outdoor spaces always have our attention in the summer, when hotel guests are eager to soak in the sun or hike along shaded trails. After the pandemic, we've learned how to leverage the great outdoors for both fun and function. Whether you're looking to activate an existing area on property or program a new-build hotel, consider how you can add outdoor space to your design plan.
Guest Driven Hotel Design
Our relentless focus on creating an Excellent guest experience is what sets HVMG's design and construction services apart. As successful operators, we determine how each space will function and benefit the guest first, and then program the space based on that.
We make design decisions that flow from how travelers want to use a space rather than designing first and hoping the outcome will work for guests. In recent months, this has allowed us to consider -- and reconsider -- how best to incorporate outdoor spaces into our design plans. From dining to exercise, meetings to family activities, we are rethinking outdoor spaces.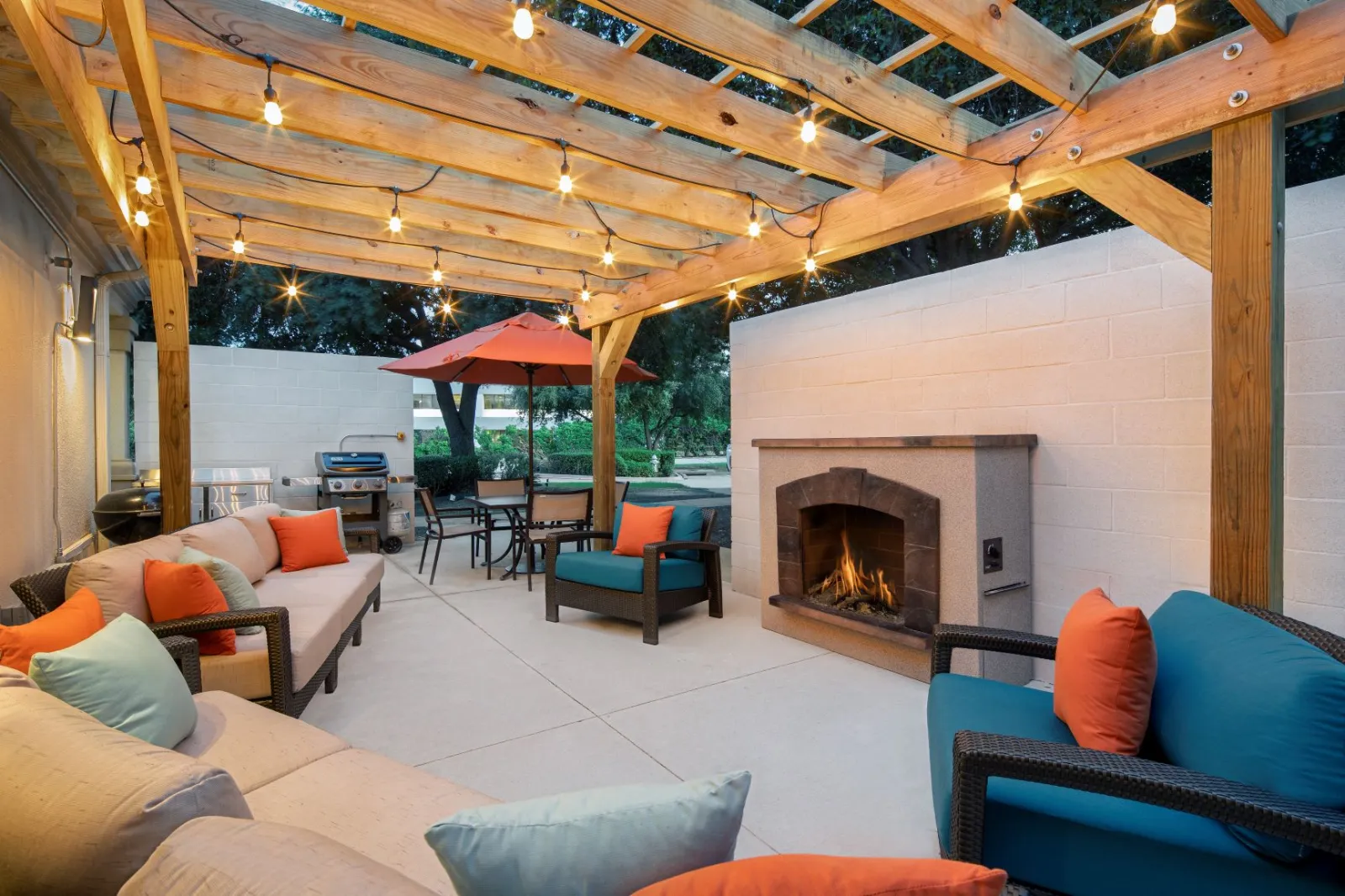 Dining
We have all watched the explosion of outdoor dining venues following last spring's lockdown. Restaurateurs and bar owners exercised their creativity muscles to carve pick-up windows out of walls and turn parking spots into seating.
Example in Action: Embassy Suites by Hilton St. Augustine Beach Oceanfront Resort
In the process of expanding the hotel by 42 suites, we've worked to redesign the food and beverage space to accommodate higher volume. One by-product of this has been that we were able to reclaim an unused patio for outdoor dining, which has allowed us to improve the efficiency of space use and add enough seats to accommodate the new suites. (Click to visit hotel.)
Example in Action: The Curator
This creative hotel in Atlanta's Old Fourth Ward neighborhood includes an innovative indoor/outdoor courtyard with doors and walls that open. Since the property will play host to pop-up events by local chefs, the ability to configure the courtyard multiple ways will add to the feeling that no two stays are the same.
Exercise
For many of us, the neighborhood walk has gone from our only option to a mental health necessity. Personal trainers have set up full front yard or garage gyms, and don't even try to count the number of new bikes and pairs of roller skates that were sold last year. In short, exercise has moved from behind the Peloton screen and out into the streets.
Example in Action: Embassy Suites by Hilton Nashville Downtown Convention Center
When HVMG joined this project, we worked with the owner and design team to put that guest focus into practice. The hotel's original plans called for a fitness facility on the top floor. Our experience told us that a rooftop bar and restaurant with a flexible gallery event space would be more popular with guests and locals alike, but we didn't want to forego outdoor space for exercise.
Instead, we were able to find space for the fitness center on the fourth floor. The addition of glass bi-fold doors creates an indoor/outdoor fitness experience and frees up the rooftop for revenue generation. (Click to visit hotel.)
Meetings and Events
As states and municipalities grappled with event capacities over the last year, we worked to create options for companies and meeting planners that would allow for hybrid events that combine the benefits of in-person meetings with the safety (and pleasure) of fresh air. Adding workable outdoor areas to supplement existing event rooms allows us to capture more business and diversify our customer base.
Example in Action: Embassy Suites by Hilton San Rafael Marin County
We surveyed the property and identified under-utilized outdoor space. The existing area was nice enough, but its purpose wasn't clear, so it didn't get used very often. It has now been upgraded to accommodate a break-out room or meal function in tandem with the event space, making the hotel more competitive for group business. (Click to visit hotel.)
Activities and Games
Of course, the timing may not be right for every hotel to make changes to the physical plant or invest in new FF&E needed in an outdoor space redesign. If that's the case, hotels can still make use of their existing footprint. Activate an underused patio or lawn with outdoor activities and games.
Example in Action: Embassy Suites by Hilton Scottsdale Resort
In addition to offering typical resort amenities like pools and a hot tub, this resort has mixed in a variety of fun games and equipment to make the most of the guest experience. These include bikes for rent, a firepit, and a giant checkerboard with oversized pieces. Other options for consideration are cornhole, Jenga Giant, outdoor chess, and kids' activities like water tables. (Click to visit hotel.)
Hotel Design + Construction Project Managers
With more than 30 new hotel construction projects and over $500 million in hotel renovations under our belts, HVMG's experienced design and construction project management team is ready to help hotel owners make the most of their outdoor (and indoor!) spaces.
Interested in more news and thought leadership from HVMG? Get on the list here.