Kim Brooks-Martin
Corporate Director of Sales Strategy and Development
Have great hopes and dare to go all out for them. Have great dreams and dare to live them. Have tremendous expectations and believe in them.
-Norman Vincent Peale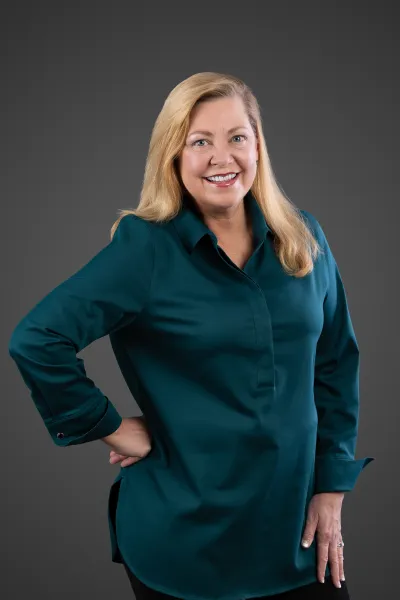 K
im has served 30+ years in the hospitality industry with quality, full-service hotels and businesses. Her experience, ability, and proven success in all aspects of Sales & Marketing management, team leadership, and broad knowledge of hotel brand marketing discipline first brought her to HVMG as a Consultant in 2016 and then to her role with us as Corporate Director of Sales Strategy and Development in August 2018. In this role, she is charged to provide corporate sales expertise, value, resources, and support to all HVMG properties; responsible for further developing and managing the vision, strategy, oversight, and leadership of the sales organization for our full portfolio of Hotels.
Prior to that, she served as Corporate Director of Sales & Marketing with Westmont Hospitality Group for five years, where she maintained corporate sales oversight of largely Hilton, Marriott, IHG convention hotels, orchestrated sales/brand/ownership conversions, developed Task Force programs and comprehensive training curricula to support field sales for 64 hotels. She is well-regarded in the industry for forging strategic and mutually-beneficial business partnerships and for her brand knowledge and expertise in "on the ground" sales strategy and application.
Her previous experience includes sales and marketing leadership and direct sales roles with large convention hotels and conference facilities in key urban markets for Wyndham, Stouffers, Renaissance, and Marriott International, and 2 years as a self-employed business consultant contracted with numerous hotel and destination management groups advising and personally managing $15 - $35 million sales operations. Kim remains an active member of several associations, including a 25-year membership in Global Business Travel Association (GBTA). She holds a B.A. Degree from Augustana College, Rock Island, IL.
Kim has earned several awards for her accomplishments and teamwork over the years including Sales Leader of the Year three years in a row with Crestline Hotels; Sales Team of the Year four times each with the Crestline, Marriott, and Renaissance Hotel companies; and industry recognition for her service as a speaker and program facilitator for organizations including TBTA, GBTA, ESPA, and PCMA.
Experience
2016 - 2018 : Hospitality Sales & Marketing Consultant

2011 - 2016 : Corporate Director of Sales & Marketing, Westmont Hospitality Group

2007 - 2010 : Area Director of Sales & Marketing, Crestline Hotels & Resorts

2002 - 2006 : Opening Director of Sales & Marketing, Sugar Land Marriott Town Square

2000 - 2002 : Cluster Sales & Marketing Leader, Marriott/Renaissance Houston